hi its danieltoday im not as good at hacking as all of u but i do try i hope to get better btw hacking 4ever
I forgot to say this earlier, but welcome to the forums!
Just follow the rules, and you'll have a great time here!

_________________
The Dakomeister
says:
Is Tyson like the MLK of hacking now?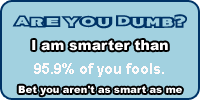 Intelligence Tests
---
Permissions in this forum:
You
cannot
reply to topics in this forum