I'm sure most of you have heard this before post your demotivational posters also PG 16 related guys IT'S FOR THE CHILDREN!
(what have I done.... )
I SHALL START!
Those were some Pokemon ones NOW FOR THE RANDOM.
I have nothing against Nickelback just sayin'
WORD.
everyone digs giant robots.
ME GUSTA!!!!
I'm ashamed of myself for understanding. (don't fu*king judge me. I judge myself)
Someone somewhere is going to lecture me about this later I can feel it.
Pfft. and you thought you saw it all.
You call this strange. I call it Wednesday night.
Not only is this topic unnecessary, but most of these images are far too huge to be posted on these forums.

It also promotes unnecessary picture spam, which is unneeded.

As a moderator, you should make better judgment. Locked.
_________________
The Dakomeister
says:
Is Tyson like the MLK of hacking now?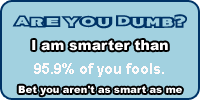 Intelligence Tests
Similar topics
---
Permissions in this forum:
You
cannot
reply to topics in this forum