hey i cant think of a power can u please help me think of one thanks
Why is this in the "Posting Games" section?

I've moved this to "General Discussion". Please remember to make topics in sections that reflect your topic's subject.

As for a power, I'm afraid I can't help you there. It's better for you to create an original power on your own, rather than piggybacking on others' suggestions. A power is also a MAJOR thing about your character, so that's another reason why it's better to think of one on your own.

As another suggestion, don't go for the overused powers route (a.k.a. Fire) or the overused form route (a.k.a. Rage).
_________________
The Dakomeister
says:
Is Tyson like the MLK of hacking now?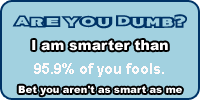 Intelligence Tests
---
Permissions in this forum:
You
cannot
reply to topics in this forum