The name is Ren. New Pokemon Hacker. Started in October in 2010 my PC broke down in December( Why PC...? why?!

) . Just saying that im here!

Last edited by redmeb767 on Mon Mar 21, 2011 9:30 pm; edited 1 time in total (Reason for editing : because of bad english)
Hello, Ren. Welcome to the forums!
I hope you have a great time here!

_________________
The Dakomeister
says:
Is Tyson like the MLK of hacking now?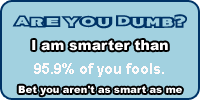 Intelligence Tests
Welcome to the Forums Ren!

Hope you enjoy it here.
---
Permissions in this forum:
You
cannot
reply to topics in this forum