1. Ty
2. Denzel (forfeited Grand Finals Set 2 to Ty)
3. Xemcail
4. Poyo
5. Seth
5. Austin
7. Tyson
7. Sarah
BRACKET:
https://redcdn.net/ihimg/m/4/7738/ygotourney2finished.gif
Thank you all for entering! I apologize that the tourney took longer than expected, but with the server going down so many times, there was nothing I could do, except wait for it to come back up.

I hope you all enter the next one!
Last edited by HitoshirezuJamal on Mon Jul 28, 2014 10:30 pm; edited 2 times in total
_________________
The Dakomeister
says:
Is Tyson like the MLK of hacking now?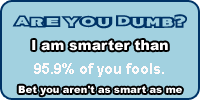 Intelligence Tests
I really enjoyed this tourney, I'm definitely entering the one tonight, it's all in good fun. Dang, Ty got 1st place... twice! Ty, Tyson and Poyo are all great are this tournament, but Tyson placed below me... Losers' bracket for the win?
It was nice watching the duels, tbh. Alot of people got raped, mostly by Xemcali, Ty, and Denzel
I can't wait for tonight's tourney btw

. Gonna be fun XP

Ink

Master





Posts

: 248


Join date

: 2011-02-26


Age

: 20


Location

: i r in mi huse



Jamal, did Denzel forfeit or something?

I still had one more set to play against him since I was in losers. XR

I do find this ironic, though.

Everytime I get to the Winner's Finals, I get destroyed. Then I do incredibly well in Loser's Finals, and in the Grand Finals, whatever my opponent got in our games, I get.

I.E. Poyo beating me 3-1 in Winner's, me beating him 3-1 in Grand. Denzel beating me 3-0 in Winner's, and I 3-0ed him in our first Grand Finals set. XD


I wish I could have entered this tournament. I also wish Jamal would stop hosting tournaments on days I'm most busy!
_________________

SageDakota

Moderator





Posts

: 303


Join date

: 2009-09-22


Age

: 23


Location

: New Qinshin City, Hiros



---
Permissions in this forum:
You
cannot
reply to topics in this forum