1. Ty
2. Poyo
3. Denzel
4. Seth
5. Ink
5. Tyson
7. Austin
7. Jamal
9. Daniel
BRACKET:
https://redcdn.net/ihimg/m/651/5440/ygotourney3finished.gif
Denzel convinced me to join last minute...
Thanks for coming, guys! With this tourney, we will finally decide rankings!
I hope you all enter more tourneys next season!
_________________
The Dakomeister
says:
Is Tyson like the MLK of hacking now?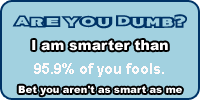 Intelligence Tests
w00t for third first place!
And since shout outs are welcome... I give a shout out to everyone in the tourney for putting on great duel after great duel.

Oh, and three major shout outs!
One to Jamal for hosting the tourneys, one to the tourney itself, and one for Poyo for the amazing Grand Finals match!
Alright, so time for shoutouts
1. Ty
GGs, good stuff winning like always

Our sets always go to last game, last few life points but you always pull out in the end >_<
Good stuff though XD
2. Poyo
Stop losing close sets to Ty! You won your other close sets! ;_;
3. Denzel
GGs, kinda disappointed how our set ended but... It is what it is I guess. I'm gonna make our 1-1 record in sets 2-1 me though

4. Seth
GGs, we had a close set that went to game 3. Just imagine if you won... I woulda got 4th twice in a row! LOL
Good set and good stuff for raping me game 2 XD
5. Ink
GGs, I was scared I was gonna get upsetted. I need better options for dat Rainbow Dragon XR
5. Tyson
GGs, ;_; @ lag D/Cing us game 1 though.
7. Austin
We gotz to duel! XR
7. Jamal
We gotz to duel! XR
9. Daniel
We gotz to duel! XR
Well, that's about it for my shoutouts, looking forward to getting first at the next tourney.... That is if I can figure out how to beat Ty! XD

Poyo

Master





Posts

: 110


Join date

: 2010-12-07


Age

: 24



it was fun sad that I came last and really sucked anyone want to duel on that site just ask me
I really sucked this tourney, although I did get really good sports for opponents.

Especially Ty, big shoutout to him, he keeps winning these tournaments.

1. Ty - Clearly the best Yu-Gi-Oh player in the community.
2. Poyo - You stepped it up from the last tourney, good ****.
3. Denzel - Damn, Top 3 again! You're really good, keep it up.
4. Seth - I'm glad you didn't get DQed this time.
Nice job on 4th.
5. Ink - You almost beat Poyo AND Seth. Good ****! (It sucks that you had to leave during Game 3 vs. Seth, though.

)
5. Tyson - GGs, and nice job getting Poyo to Game 3!
7. Austin - Don't get too discouraged; You just need to switch up your deck. A coin deck is extremely risky to use.
7. Jamal - I beat Daniel, at least.
9. Daniel - GGs, and thanks for entering.
_________________
The Dakomeister
says:
Is Tyson like the MLK of hacking now?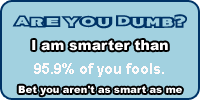 Intelligence Tests
---
Permissions in this forum:
You
cannot
reply to topics in this forum