1. Denzel (Junk) (Frog Monarch)
2. Ty (Agent) (Vylon) (DQed against Daniel in Winners')
3. Poyo (Blue-Eyes White Dragon)
4. Ink (Crystal Beast) (forfeited in Winners')
5. Ensane (Six Samurai) (Final Countdown) (forfeited in Losers')
5. Daniel (Mixture)
7. Jamal (Six Samurai)
7. Austin (Arcana Force)
9. Gold (Mixture) (Toon)
9. Dakota (Dark Magician)
9. Tyson (Blackwing) (Junk Synchro) (forfeited in Losers')
BRACKET:
http://img707.imageshack.us/img707/2294/stimetoduelfinished.gif
Here's what happened, regarding the DQs and forfeits.
Tyson: He was forced to leave early after his set with Poyo, so he had to forfeit in Losers'.
Ensane: After Ensane's extremely close set with Poyo (Ensane played the Final Countdown trap, and Poyo won on the
very last turn
), he also had to leave early, leaving him to forfeit in Losers'.
Ink: He was forced to forfeit in Winners', but returned later to play his sets in Losers', defeating Austin and Daniel, before losing to Ty 1-2.
Ty: Ty's DQ against Daniel in Winners' might have had the biggest impact on the tournament's results. Ty failed to show up on time for his match, leaving him to be DQed against Daniel. He managed to show up in time for Losers', and defeated Gold, me, (Ensane forfeited in Losers', so Ty had a Bye for that round), Ink, and Poyo, before losing to Denzel in Grand Finals.
First off, I apologize to Ty for him being DQed in Winners', but I had no choice, and he still did amazing in the tourney, overall.
Secondly, this is the first Hacker Community Yu-Gi-Oh tournament not won by Ty. (Congratulations to Denzel!)
Remember to leave your shoutouts, guys!
_________________
The Dakomeister
says:
Is Tyson like the MLK of hacking now?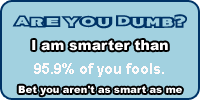 Intelligence Tests
WELP.
Daniel came just in time when I was about to duel Denzel, thus me having to duel Daniel, instead, where I quit. Some of you know the story, and I'm sure you would agree with my decision. I also played Ink, but I quit out of bordom.
Daniel: Good game, except you need to learn how to actually play, when I pointed out your mistakes, you ignored me.
Ink: Good game, we didn't play much, but you were a fair sport with my decision.
And I didn't play anybody else, so yeah.
1: Denzel: Congrats on the first place! Someone finally snuck a win past me.
2: Tyler: God dang, what was up with those last matches? I played too cautious after awhile. XR My game is slipping, now.
3: Poyo: Another epic match from the Blue Eyes wonder! You almost beat me, but my adorable Fairies of destruction beat the mighty Dragon. XD
4: Ink: Again, hard fought duel. You're improving, and quickly.
5: Ensane: Never played you.
6: Daniel: Me getting DQed might've been the reasonn why you progressed to 5th. XD If we ever get in another matchup, don't expect me to miss out this time.
7: Jamal: Wow, you've fallen in your place. :/ Either way, you played a good game, and I hope to see you get higher placements.
8: Austin: We didn't duel this time.
9: Gold: This is the only time I've ever seen you duel, and you're still kind of new to your return, but hopefully, you'll get better and have better luck. (Y)
10: Dakota: Didn't duel you this time.
11: Tyson: Didn't duel you, but a shame you had to forfeit. D:
And a special shout out to the tourney for getting 11 members this time!

Ty: I finally ended your reign!
Poyo: Man, we had a close round in Winner's Finals!
Ensane: Sorry you had to forfeit when things were getting fun.
Jamal: You're improving a lot faster than I thought you would!
I would like to add that Austin gave up to me and that this was a fun toney XD
---
Permissions in this forum:
You
cannot
reply to topics in this forum