1. Ty (Agent Angels/Control Agents)
2. Ensane (Six Samurai) (Final Countdown) (GaiaSworn) (Insect Mill) (Nordic)
3. Poyo (Blue-Eyes White Dragon)
4. Tyson (Junk Synchro) (D.D.)
5. Seth (Endymion) (Six Samurai)
5. Jamal (Six Samurai)
7. Ink (Crystal Beast)
7. Gold (Dragon) (Exodia) (Toon)
9. Dakota (Assault Mode)
9. Sasab (never showed up)
BRACKET:
http://img11.imageshack.us/img11/8397/thekingriseshackerrevol.gif
Last edited by PokemonMasterJamal3 on Sat Jun 11, 2011 12:43 am; edited 2 times in total
_________________
The Dakomeister
says:
Is Tyson like the MLK of hacking now?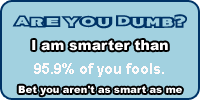 Intelligence Tests
To explain the title:
The King Rises = Me capturing another win after a shocking defeat to Denzel.
Hacker Revolution = Everyone is going to revolt if I don't get barred from the tourneys. XD
Shout outs:
1: Ty: w00t! Time for the King's
tyranny
reign to start again!
2: Ensane: That Insect Mill almost got me. OTKs FTW! I'm watching out for you, though. (D)
3: Poyo: Shame you lost in Loser's Finals. D: Oh well, you still placed really well, and gave some epic matches.
4: Tyson: LE GASP? Tyson got 4th? Congrats! I'm still expecting you to place higher in the future. XD
5: Seth: Didn't duel. Good job on the return, though.
6: Jamal: You're still doing well! But seriously, you need to set your monsters in DEF more often. XD Our match would've gone on longer if that had happened. GGs all the same.
7: Ink: ... Did I even duel you this time? XR Anyway, your deck got remade, so you can place higher next time.

8: Gold: WHAT HAPPENED?! You said you were going to be my Grand Finals opponent. D: You're determined, so I should expect you to get there in the future.
9: Dako: Never dueled. :/
10: Sasab: ... XD I've heard of being fashionably late, but that was ridiculous. I can't wait to play you in the next tourney.

Alright, so this tourney was really awesome, i loved it.

Here are my shoutouts!

Seth: I was watching your duel against Ensane, and i loved when you pulled a Poyo on
the last turn! Good job! Too bad you couldn't make it further, I would've loved to duel you!

Ty: What can I say?...You win. Again. Wooo...

Dakota: I always love when we duel, no matter what. HEY! That's a song! -whistles- Wish you made it further, but you were great!

Jamal: Our set was intense! I loved it! Heart of the Cards FTW! You've definitely improved since when you first started!

Ensane: DAMN! That final countdown deck sure can make people nervous! Lol! I had you, but I goofed! Next time! I'll beat you >=D.

Gold: I wished I had faced you..but what can I do? :/

Sasab: Come on, man! Next time, know when you're in a tourney! Lol!

Poyo: You beat me xR, I should've used Blackwings when I had the chance. Good job on making third, but you've gotta stop ragequitting! XR

Ink: Ink, you were good. You got me nervous at times and it was an awesome duel!

Good job Everyone!
Unfortunately, I dueled so much that I barely remember what happened at all! XD
I do remember Poyo beating me and me beating him, all in ridiculously close games. +1 Poyo hype
I also remember Ty owning the crap out of me after making me wait 10 hours to play. XD They were fun though.
Also, Jamal, that's a GaiaSworn deck, not ChaosSworn. I think I also won with a Nordic deck, too.

---
Permissions in this forum:
You
cannot
reply to topics in this forum