the past few weeks people havent posted as much as like a month ago I think we should post more Im not a mod or anything but I do post alot and this forms is really a great place so guys please post more these forms are the hope of many hackers out there on how to be great and what we like and what we bleave is happening to the hacking community
danieltoday
What's the point of this? ^^;
Everyones mostly busy now. We got people who are worrying about jobs, drama, relationships, etc etc. Mostly anyone who goes on the forums are to post one thing then get back to there rl stuff. I don't think anyones going to post because someone is asking to. Mostly the only people who come on now are like 2-4 people to post a tourney post or a hack update. It's also because alot of people are talking on Youtube to Xat or to Msn. And finally its summer not everyone should waste there time online when you should be outside swimming or enjoying these break ^^; its just facts
I mean its not like it used to be
Nomomnomable wrote:What's the point of this? ^^;
I actually approve of this blog, I'd just like to point out.
The point is clear: The forums are dying, and we need people to post more.
_________________
The Dakomeister
says:
Is Tyson like the MLK of hacking now?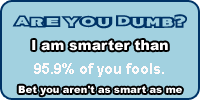 Intelligence Tests
thanks Jamal

I would post more, but I have no comp.

If I get a new hard drive, then you should see good ol' tyking1224 user pop up more often. XD
your return will be big i cant wait
Similar topics
---
Permissions in this forum:
You
cannot
reply to topics in this forum