1. Andrew
2. Jamal
3. Denzel
4. Gold
5. Poyo
5. Ink
7. Tim
7. Seth
9. SSM
BRACKET:
http://img3.imageshack.us/img3/8519/theheartofthecards.gif
Thank you for entering! Last tourney of the season! Rankings will be determined.
Last edited by HitoshirezuJamal on Tue Oct 30, 2012 11:05 pm; edited 2 times in total
_________________
The Dakomeister
says:
Is Tyson like the MLK of hacking now?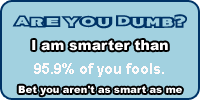 Intelligence Tests
whats this Andrew entered? I didnt know he was back this fast
Andrew won, eh? Looks like there's someone new for me to duel... if I ever get a new comp. XR

Still, congrats to everyone who participated!
What? No notification? T_T
---
Permissions in this forum:
You
cannot
reply to topics in this forum