I've have seen that here is a new Kirby game on the DS. And...it is quite unique. It is only in Japan right now so I don't know if it will appear in the US or not. But the game is about getting apples to get up to 10 kirby's at once. The weird thing is...in the game, you have to draw a line for Kirby to fly, but he doesn't even fly! He holds onto the line and goes up. You could also do a bash attack to hit blocks or enemies. But from what I seen...You cannot suck up enemies in the game. Yes. A Kirby Game that you can't suck up enemies. You beat them up, but never suck them. I don't know if this game is going to be good or not but I want to check it out for myself.
I first heard about the game yesterday, actually. O.o
It sounds like an interesting concept, so I'll try it out when it's released.
Also, on a side note, you don't inhale enemies in Kirby: Canvas Curse or Kirby's Epic Yarn, either.
_________________
The Dakomeister
says:
Is Tyson like the MLK of hacking now?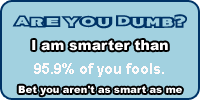 Intelligence Tests
This game is debattable because we dont know much about it (Since its in Japanese)

Plus we had some Kirby games that had some weird stuff u know like Epic Yarn (Even though it was epic~!)
I've known about this game for awhile it comes out in America mid September. Personally I'm more hyped about the new Kirby game for the Wii that has 4 player Co-op I'MA META ALL DAY ON DAT.
---
Permissions in this forum:
You
cannot
reply to topics in this forum