1. Team Three Star (Austin, Brandon, and Ensane)
2. Team XR: With Blackjack....and Hookers (Seth, Jamal, and Ty)
3. Team Panda Cheese (Sanna and Daniel)
4. Team DarkRise (Fisal, Raina, and Sarah)
First roundsTeam XR: With Blackjack....and Hookers vs. Team Panda Cheese (There was no 3rd member for Team Panda Cheese, so the rule was that if the round went to 1-1, the one member of Team Panda Cheese that didn't lose would have to battle twice)
Ty vs. Daniel - Ty wins
Seth vs. Sanna - Seth wins
Final Result: Team XR: With Blackjack....and Hookers wins 2-0
Team Three Star vs. Team DarkRise
Brandon vs. Sarah - Brandon wins
Ensane vs. Fisal - Ensane wins
Final Result: Team Three Star wins 2-0
Bronze Match (Consolation for 3rd Place)Team Panda Cheese vs. Team DarkRise (There was no 3rd member for Team Panda Cheese, so the rule was that if the round went to 1-1, the one member of Team Panda Cheese that didn't lose would have to battle twice)
Sanna vs. Sarah - Sanna wins
Daniel vs. Raina - Raina wins
Sanna vs. Fisal - Sanna wins
Final Result: Team Panda Cheese wins 2-1
FinalsTeam XR: With Blackjacks....and Hookers vs. Team Three Star
Seth vs. Ensane - Ensane wins
Ty vs. Brandon - Ty wins
Jamal vs. Austin - Austin wins
Final Result: Team Three Star wins 2-1
BRACKET:
Trivia:
- Raina is the only member of Team DarkRise to remain undefeated throughout the tournament.
- Team Panda Cheese was permitted to enter without a 3rd member, due to some difficulties.
- Ty is the only member of Team XR: With Blackjacks....and Hookers to remain undefeated throughout the tournament.
- Brandon is the only member of Team Three Star to lose a game throughout the tournament.
_________________
The Dakomeister
says:
Is Tyson like the MLK of hacking now?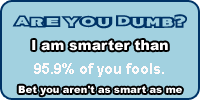 Intelligence Tests
So much to say about this tournament. I'll try to keep it short.
Okay, first of all, alot of people bailed, came back, then bailed again. This happened all day until the tourney finally began. I wonder how many people did just that anyway... Let's just say several. It was annoying, and I'm pretty it was annoying to everyone. Onto shoutouts!
Team Three Star - You guys really were a huge help in this tournament, both of you did REALLY well. Although we're a great team in my opinion, I didn't expect 1st place. Thank you both!
Ensane - You are definitely the best of all 3 of us, you somehow beat Seth, too. Just when you didn't want to battle him, too...
Just have faith and it'll help you out in the end. Next time, try not to question my decisions! ...Kidding! ...Or am I? Your match with Fisal was great, too, that was really great. I should have saved that log... Really hyped battle. Team Three Star!

Brandon - With your all ice team, I wasn't sure if you would beat Ty or not-- You were both down to one Pokemon each, you were starting to scare me, bro. You ended up losing that match, but it doesn't matter, you still did GREAT, and almost had him! Your battle with Sarah was great, too. Team Three Star!

Team XR: With Blackjack....and Hookers - 3 great games! I'm happy that we faced you guys in the finals! Certainly a great team. Congrats on 2nd place!
Ty - Your battle with Brandon was really fun to watch, it could have gone either way honestly. DAT JELL. Seriously though, I didn't battle you, but from what I watched, you were really great out there.
Seth - Didn't battle you. You still did great against Ensane, that battle definitely could have gone either way, aswell! Honestly, I don't blame Ensane for being scared to battle you, you're really good!
Jamal - Loved our battle! I saved the log and I'll send it to you later if you'd like. You had me really scared man, I thought I was gonna lose, but in the long run, I somehow made it. It's probably just luck though, It'll probably never happen again. Tryin' to disable my recover, eh? On a serious note, I hope we face again the future, not that I'll win.
Team Panda Cheese - Didn't battle you guys. Congrats on 3rd!
Sanna - Didn't see your matches, sadly. Still though, I'm sure you did awesome!
Daniel - Hey, nice weather you're having in Australia? That's nice.
Team DarkRise - Wow, you guys deserve more than 4th place... Dang, seriously.
Fisal - That was a great match, you against Ensane! I dunno what to say besides the fact that I really did like that match, regardless of what happened.
Sarah - Your match with Brandon was fun! I couldn't really tell how it would go at first, but it was still fun to watch!
Raina - Sorry we couldn't battle, we didn't get a tie, so we really could not, based entirely upon how they were decided. Sorry...

Overall a very fun and exciting tournament, the outcomes of most of the matches were hard to foresee, and I had alot of fun. Hopefully we can have another one this weekend as planned. Knowing you guys though, you'll probably have another by tomorrow...
---
Permissions in this forum:
You
cannot
reply to topics in this forum