1. Denzel
2. Jamal
3. Ensane (forfeit in Losers')
4. Ty
5. Sasab
5. Tim
7. Tyson
7. Sakura (forfeit in Losers')
9. Darek (forfeit in Losers')
BRACKET:
http://challonge.com/HBL
Last edited by HitoshirezuJamal on Wed Jul 23, 2014 1:35 pm; edited 1 time in total
_________________
The Dakomeister
says:
Is Tyson like the MLK of hacking now?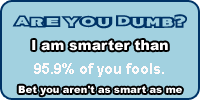 Intelligence Tests
Shout outs:
1: Denzel: We're now tied for tourney wins. But next time, I will win!

2: Jamal: Dayum, graet games! And you finally beat me! I've got to start practiving again. XD
3: Ensane: Shame about the forfeit. D:
4: Ty: BAD! BAD TY! DO BETTER YOU LAZY PIECE OF CRAP! Oh wait, that's me...
5: Sasab: Didn't get to duel.
6: Tim: I finally beat you! And my Internet finally didn't screw me in our duels!

Good games, man.

7: Tyson: Didn't get to play. You need to get better placements, though. (D)
8: Sakura: Didn't get to duel. D: Shame about the forfeit. :/
9: Darek: Didn't get to duel. D: Shame about the forfeit. :/
---
Permissions in this forum:
You
cannot
reply to topics in this forum