HACKER COMMUNITY TOURNEY DISCUSSION THREAD
Post here to discuss major Pokemon Online tourneys that people in the community can enter, online or offline.
All tournaments are Saturday unless mentioned otherwise.
Events, in order of whats first:
Rise from the Ashes - October 8th, 2011 -
_________________
The Dakomeister
says:
Is Tyson like the MLK of hacking now?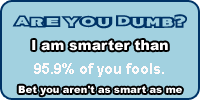 Intelligence Tests
---
Permissions in this forum:
You
cannot
reply to topics in this forum