Recently, me and a few friends have gotten into this website called "TV Tropes" The link to this website
is here.
Borrowed from this page, "Tropes are devices and conventions that a writer can reasonably rely on as being present in the audience members' minds and expectations. On the whole, tropes are not clichés."
Rather than doing this with all (or most) media, however, this section is
exclusively
focusing on hacks. Specifically, we will be focusing on hack series and the creators of those series.
Along with pre-existing tropes common in most media (be sure to link them to the original articles on TV Tropes!), we will also be defining our own tropes in this community.
If you have any questions, just post here. Check out TV Tropes to get a general idea of what to expect.
Happy posting!
_________________
The Dakomeister
says:
Is Tyson like the MLK of hacking now?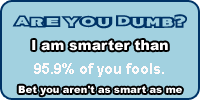 Intelligence Tests
---
Permissions in this forum:
You
cannot
reply to topics in this forum