hello guys i'm Weather Ball!

i've been watching pokemon hacks on youtube for awhile but havent really done it myself. a few days ago i downloaded some hacker tools and thought it was pretty fun so i'm gonna try doing it myself!

So get ready i'm gonna take the pokemon hacker community by STORM =D
That's the spirit!
Welcome to the forums, and I hope you enjoy your stay.
Have fun with hacking!
_________________
The Dakomeister
says:
Is Tyson like the MLK of hacking now?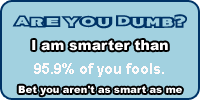 Intelligence Tests
Welcome I hope you enjoy your stay
Thanks guys i'll do my best to make a good hack!
Hey Weather Ball, welcome. Enjoy your stay, it might be your last! Mwahaha
Welcome to the forums!

I have to lay down a ground rule real quick before the welcome is complete... Do not touch my pet Kraken. He will eat you alive if you so much as say hi to him... I keed. :p

Enjoy your time here!
-in pain- It's a lie! Help! Ahhh!
Similar topics
---
Permissions in this forum:
You
cannot
reply to topics in this forum