1. Seth
2. Poyo
3. Ty
4. Tim
5. Jamal
5. Sarah
7. Raina
7. SSM
http://images.challonge.com/MOTD.png
Yes, I know... EXTREMELY LATE, and my only excuse is that I was too lazy to post it. I'll try to put up results threads ASAP from now on.
Other than that, thanks for entering!
_________________
The Dakomeister
says:
Is Tyson like the MLK of hacking now?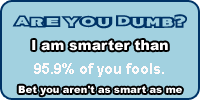 Intelligence Tests
Well, a 2 month late results thread equals 2 month late shoutouts!
1. Seth - Good stuff winning, we always have the best GFs. That Scald burn game 2 of our second set was heartbreaking though. GGs though, you always give me the most fun battles.

2. Poyo - Disappointed in my placing, but that's what happens when you experiment with teams in tourney, LOL. Still had a good time at this tourney though. XD
3. Ty - GGs, I'm pretty dumb for testing teams after I won game 1 in our Winner's set, but hey, I got revenge in Loser's Finals. ;D
4. Tim - I wanted to play you for a long time and glad I finally got to. An Espeon being the weakness to your team though... Never would've expected that. O.o GGs! XD
5. Jamal - We probably would've had a game 3 if not for the hax game 2, GGs anyway though.
5. Sarah - Good stuff beating our second on PR first round, ironic how your placing still ended up tying with his though. XD
7. Raina - Not sure what to say, but I battled everyone in this tourney except you and Sarah. Weird how I battled everyone except the girls. XD
7. SSM - GGs. Honestly, you should've beat me game 1, I was playing terribly that game, but you made some mistakes. I stepped it up game 2 at least. XD

Poyo

Master





Posts

: 110


Join date

: 2010-12-07


Age

: 25



XD Poyo I just suck...

I congradulate everyone and well I suck...Straight to the point
---
Permissions in this forum:
You
cannot
reply to topics in this forum