1. Tim
2. Raina
3. Seth
4. Jamal
5. Sarah
5. Ty
7. Austin
http://images.challonge.com/RoCC.png
Thanks for entering!
_________________
The Dakomeister
says:
Is Tyson like the MLK of hacking now?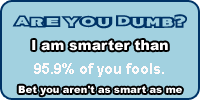 Intelligence Tests
I didn't get that far, but I honestly take pride in that, especially considering I lost to two very good friends of mine! GGs, Raina! You deserved to make it as far as you did! You've really improved!

GGs to you too, Tyler! Always a pleasure battling you, we always get the craziest teams in CC! Aha!
Another great tournament, guys! Congratulations to Tim for winning, and congratulations to Raina as well for making it so far!
Similar topics
---
Permissions in this forum:
You
cannot
reply to topics in this forum