1. xXtyking1224Xx (Ty)
2. NinetalesPrower (Tails)
3. okamishiraunirules (Raina)
4. Chimchar009 (Nathan)
5. goldenchimchar (Denzel)
5. PokemonTrainerAustin (Austin)
7. ensanesane (Ensane) (forfeited in Losers)
BRACKET:
http://challonge.com/TPHR
Matches are included in the bracket!
Even though we didn't have too many entrants, it was still a fun tourney! Thanks for entering, guys!
The next tournament will be The Pokemon League 2014, so stay tuned!
_________________
The Dakomeister
says:
Is Tyson like the MLK of hacking now?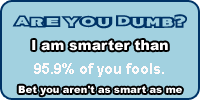 Intelligence Tests
Similar topics
---
Permissions in this forum:
You
cannot
reply to topics in this forum