1. BoltTheTrainer (Bolt)
2. ScarletShiny (Brandon) (forfeited Set 2 to Bolt)
3. GoldFinale (Gold)
4. DestinyBuizel (Tim)
5. HitoshirezuJamal (Jamal)
5. LordHekena (Dakota)
7. okamishiraunirules (Raina)
7. PokemonTrainerAustin (Austin)
9. BlazeTheMovieFan (Blaze) (forfeited in Losers)
9. Chimchar009 (Nathan)
Bracket:
http://challonge.com/TPL2014
Random Battle:
1. BoltTheTrainer (Bolt)
2. ScarletShiny (Brandon)
3. HitoshirezuJamal (Jamal)
4. TatsuAce (Tatsu)
5. okamishiraunirules (Raina) (forfeit)
5. GoldFinale (Gold)
7. PokemonTrainerAustin (Austin)
7. DestinyBuizel (Tim) (forfeited in Losers)
9. Chimchar009 (Nathan)
Bracket:
http://challonge.com/TPL2014RB
Thanks for entering, guys, despite a few unfortunate shortcomings! This is the end of the 5 tournament season, so the new Power Rankings will be coming out soon!

_________________
The Dakomeister
says:
Is Tyson like the MLK of hacking now?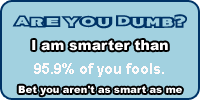 Intelligence Tests
Fun tournament, everyone did good.

Raina - Great set. Dat Mew though
Jamal - Stall War. 'Nuff said. Good set though
Brandon - Faced you both events, again. XD You kicked my ass, but I still had fun.

Tim - Good set! Only won one match, but still fun. XD
---
Permissions in this forum:
You
cannot
reply to topics in this forum