1. okamishiraunirules (Raina)
2. ScarletShiny (Brandon)
3. DekuTim (Tim)
4. PokemonTysonLegend (Tyson)
5. SaiyaKnight (Saiya)
5. BoltTheTrainer (Bolt)
7. PokemonTrainerAustin (Austin)
7. LightningStarSakura (Sakura)
Bracket:
http://challonge.com/MRBPHCT
Thanks for entering!
Hopefully more tournaments will be coming soon!
Also, congratulations to Raina for winning her first tournament!
Miscellaneous:
- Tyson and Austin both won exhibition sets with Bolt for bragging rights (Bolt would "get 4th" if he beat Tyson while Austin would "get 5th" if he beat Bolt).
Last edited by HitoshirezuJamal on Sun Sep 25, 2016 10:35 pm; edited 1 time in total
_________________
The Dakomeister
says:
Is Tyson like the MLK of hacking now?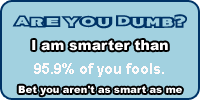 Intelligence Tests
Very fun tournament, enjoyed my matches with Saiya and Bolt. Everyone preformed really well!
Similar topics
---
Permissions in this forum:
You
cannot
reply to topics in this forum