I may not know much about Brawl, but alot of talk has been going around on the best player. So go ahead, post your vote, what are you waiting for?
IMO, I think Ally is the best player right now.
Not only did he 3-0 Mew2King at Viridian City 9 in Grand Finals, but after that tourney, he hasn't placed below 1st at any of the tourneys that he's entered (to my knowledge).
I'd like to see Ally vs. Mew2King again soon, though.

_________________
The Dakomeister
says:
Is Tyson like the MLK of hacking now?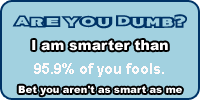 Intelligence Tests
Come on, people! Only 2 votes?? You Smash fans can do better than that!
---
Permissions in this forum:
You
cannot
reply to topics in this forum