Well I have been have a problem kinda well some people have said that my sprite doesn't have a back and I don't know how to fix it and I think it doesn't look that good aswell can someone tell me how to make it look better or help me with it Thanks

This should be in "Technical Issues". I'll move it there.
_________________
The Dakomeister
says:
Is Tyson like the MLK of hacking now?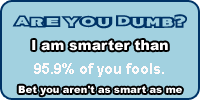 Intelligence Tests
Step 1: Rip the side sprites of any male sprite of FR (has same sprite style as the Gold sprite from Shiny Gold, which is what your sprite is) excluding the male hero from FR/LG.

Step 2: Open up Paint and open up Daniel's side sprite first. This way, Paint will be working with that palette instead of the other. After that, then use the "paste from" option to paste the side sprite of the sprite that you ripped.

Step 3: Using a black outline, essentially redraw the outline of the ripped sprite's back onto your sprite. Then color in any blank pixels that are inside.

Step 4: Do the same steps with Daniel's walk sprites, and presto! You now have a back.

Hope this helps.
---
Permissions in this forum:
You
cannot
reply to topics in this forum