General Rules and Clauses
:
- Double elimination.
- All sets starting from Semis are Best of 3. For Grand Finals, the winner of Losers' Finals must win 2 sets, while the winner of Winners' Finals only has to win one. Team changing during a set is allowed.
-
ALL UNRELEASED DREAM WORLD POKEMON ARE BANNED!
For a complete list of currently released Dream World Pokemon, see this thread:
http://www.smogon.com/forums/showthread.php?t=3454925
- Sleep Clause: Two or more Pokemon on a team cannot be asleep at the same time. Self-induced sleep via Rest does not activate Sleep Clause.
- Freeze Clause: Two or more Pokemon on a team cannot be frozen at the same time.
- Self KO Clause: If both players have only one Pokemon left, moves which KO both the user and the opponent are not allowed (e.g. Explosion, Destiny Bond). If recoil damage would cause a tie, Self KO Clause does not activate, and the player who last attacked is the winner.
- Species Clause: Two or more of the same Pokemon may not be used on the same team.
- WiFi Battle: WiFi Battle
MUST BE ON
at all times.
Ban List
:
Items
All items that increase Evasion (BrightPowder, Lax Incense)
Moves
All moves that increase Evasion only (Double Team, Minimize)
All instant OHKO moves (Fissure, Guillotine, Horn Drill, Sheer Cold)
Abilities
Moody
Drizzle + Swift Swim on the same team
Species
All Unreleased Dream World Pokemon
Arceus
Blaziken
Darkrai
Deoxys-A
Deoxys
Dialga
Excadrill
Garchomp
Giratina
Giratina-O
Groudon
Ho-Oh
Kyogre
Lugia
Manaphy
Mewtwo
Palkia
Rayquaza
Reshiram
Shaymin-S
Thundurus
Zekrom
SIGN-UP PAGE:
http://challonge.com/tournaments/signup/ksgqcdyoih
You MUST sign up if you want to be in the bracket.
_________________
The Dakomeister
says:
Is Tyson like the MLK of hacking now?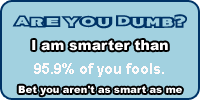 Intelligence Tests
Similar topics
---
Permissions in this forum:
You
cannot
reply to topics in this forum