wanna play someone in a ps3 game here is where you post your psn and the game you wanna play and hopefully someone will respond and maybe you'll make new friends
wanna play with or against someonebody on the wii here you can post the game and your friend code for the game here if you feel uncomfortable posting that information just post the game. and then from there take it to pm's if someone wants to play with you
At the moment, the only game on the Wii that I have that has Wi-Fi is Brawl, and there's a "Friend Codes" sticky there.

Can someone recommend some games that have Wi-Fi? (No FPS games, please. I'm not too fond of those.)
_________________
The Dakomeister
says:
Is Tyson like the MLK of hacking now?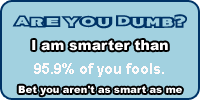 Intelligence Tests
Looking to play a fellow Hacker Community member in an Xbox game? This is the topic for you.
Post your Xbox Live down below as a response to this topic, someone can respond to you,
and there you go- Instant friend to play video games with for as long as you want, you can make new friends in the process. And yes, this does sound like an commercial.
Similar topics
---
Permissions in this forum:
You
cannot
reply to topics in this forum